Breakthrough Hair Regrowth Serum
Loved and Trusted by 1000's of Men and Women
See how Co-Founder Jay Campbell Regrew His Nearly Bald Head to Fuller, Thicker Hair with Auxano Grow
"As a guy with a genetic predisposition to hair loss, I figured I was destined to shave my head and go with the Chrome Dome look. After two full months using Auxano Grow, my hair regrowth has been so astonishing, people are asking if I've had a hair transplant."
Jay Campbell
4X International Best Selling Author
Men's Health Expert and Aseir Co-Founder
How Does Auxano Grow V2 Work?
Aseir Custom's two phase product system of GHK-Cu (Serum A) in combination with Carbon 60 (Serum B) stimulate healthy blood flow to the follicular root when massaged into the scalp.

When Serum A (Copper peptide GHK-Cu) is massaged into the scalp, it enhances angiogenesis (increased blood flow) and the promotion of new blood vessel growth topically in the dermis of the scalp by suppressing topical inflammation through improved mitochondrial function. (In other words, each hair follicle will receive more blood supply and oxygen via the capillary it is connected to).
Loved and Trusted by 1000's of Men and Women
Why You'll Love It:
Our formula utilizes both Copper Peptide GHK-Cu and Carbon 60 (C-60) biomolecules that work together to reverse hair loss and promote new growth for fuller and thicker hair. Both agents in combination offer a synergistic approach to hair regrowth, while stopping hair loss and shedding due to age and or genetic predisposition.
Increase hair thickness and fullness

Prevent and reverses hair follicles shrinkage

Increase formation of new hair follicles

Accelerate hair re-growth of new hair and reduce shedding following hair transplant

Stimulate blood flow to the roots to promote the health of existing hair

Reduce inflammation at the follicular root
How Does Auxano Compare?
Auxano
Grow v2
DHT
Blockers
Minoxidil/
Rogaine
Hair
Transplants
Platelet-Rich
Plasma (PRP)
Laser
Combs
Affordable
Highly Effective
Regrow New Hair
No Side-Effects from
Hormonal Manipulation
No Inflammation
Natural Looking Tufts
of Hair
No Pain
Mitochondrial Function
Enhancing
Oxidative Stress
Reduction
Angiogenic (formation of
new blood bessels)
Up to 90 day supply* from only $2.30 per day
Loved and Trusted by 1000's of Men and Women
Don't just take our word for it, see real breakthrough hair growth from our customers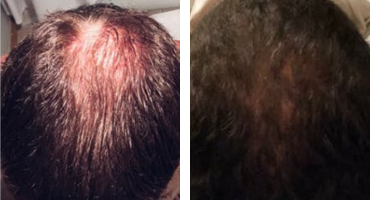 "I have completely stopped using my hair loss prescription drugs and now have healthier and thicker hair."
GEOFF H.
Verified Buyer
"I can finally wear my hair up confidently for the first time in years without worrying about bald spots showing through."
MARY T.
Verified Buyer
"My results after only one month of use are astonishing"!
DANNY V.
Verified Buyer
How to Use Auxano Grow V2
For maximum benefit use Serum A (Copper Peptide GHK-Cu) in combination with Serum B (Carbon 60). We recommend always applying Serum A before Serum B due to the water-based nature of Serum A vs the oil-based (Grapeseed Extract) nature of Serum B.

Step 1
Apply Serum A
Apply enough (1-3 sprays) of Serum A to lightly cover the treatment area of your scalp, and gently massage in to facilitate maximum absorption. Allow Serum A about a minute to fully absorb into the skin.
Step 2
Apply Serum B
Apply enough (1-3 sprays) of Serum B to lightly cover the same target area where Serum A was just applied. Gently massage into the skin to aid absorption. Serum B due to the light instantly absorbable oil based texture allows you to conveniently style your hair without adding product.
Step 3
Enjoy Hair Growth!
Once desired results are achieved, a general maintenance routine would be to apply Auxano 1-2 times per week to areas of concern or thinning.


*Please understand over saturating the area of concern (where your hair is thinning or balding) will not produce better results. More is not better. Gently massaging Auxano (Serum A and Serum B) into the scalp is critically important to achieve the best results.*
Up to 90 day supply* from only $2.30 per day
For Men and Women Who Refuse To Age
It's not a coincidence that you found us. You care about living a fully-optimized life in body, mind and spirit. And that includes what products you put on your hair and skin. We know because we're the same way.

We don't want to have to choose between name brand products full of nasty chemicals and ineffective formulations, or "natural" home remedies that only work as a placebo. We just want skin and hair care products that actually work, made with the highest standards of care and quality.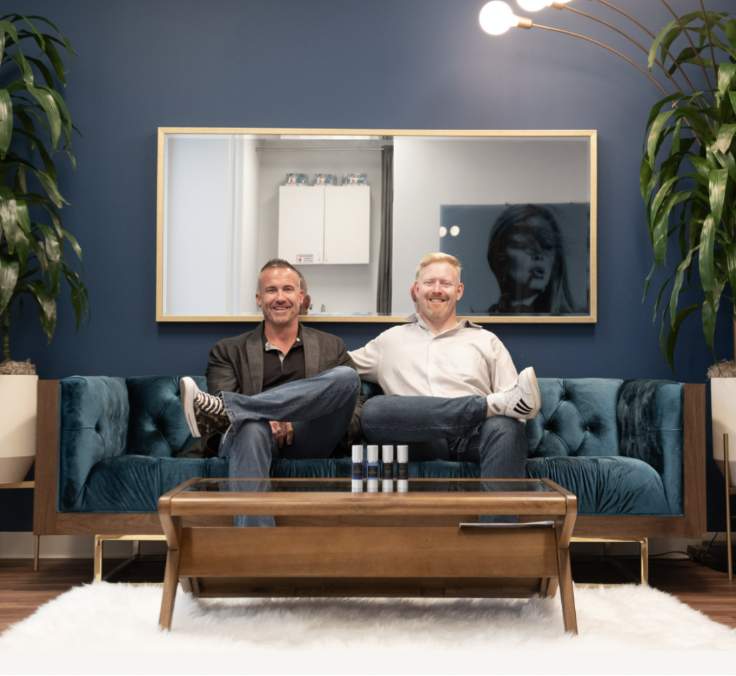 – Nick Andrews & Jay Campbell, founders of Aseir Custom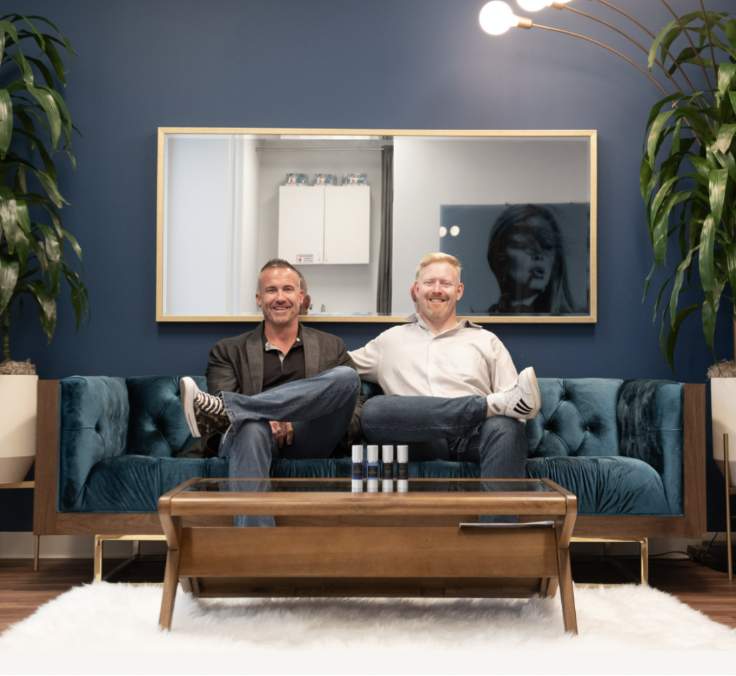 Customer Reviews
Loved and Trusted by 1000's of Men and Women
Great products
"I love these products! Since using them my skin has cleared up, I have no more dryness and my skin feels great! I don't have any wrinkles yet but im hoping to prevent them in the future:) I've gotten many compliments on my skin since using these products."
Ella F.
Verified Buyer
Amazing Healing Benefits!!
"So a little back ground on me...I work in the beauty industry (hairstylist/aesthetician) and my husband owns a sports nutrition store. So fortunately for me I get to try a lot of new skin products and supplements that are beneficial to my skin ."
Melodie M.
Verified Buyer
Just do it!!!
"Hey Guys, my one regret is that I did not take a before pic. i had no idea that the results would be so dramatic and quick. my receding hairline has completely filled in and the entire top of my head is now thick enough that i can no longer see my scalp."
Lee B.
Verified Buyer
Great Customer service
"I've purchased the Auxano Grow version 1 and have been using it for about 3 weeks. I'll need more time to see how it goes, but I'm already noticing less hair falling out when I rub my scalp. This means that my follicles are getting stronger."
Rafee.
Verified Buyer
Loved and Trusted by 1000's of Men and Women
Auxano Grow V2 Hair Growth Formula
$249.99
"The effects of Aseir Custom's products are so profound for me and my wife, they are a must add to your daily anti-aging stack"
Ben Greenfield
NY Times Bestselling Author and Fitness Guru
Still not sure? Find answers to your questions here
What is the best way to apply Auxano Grow for maximum results?
For maximum benefit use Serum A (GHK-Cu) in combination with Serum B(Carbon 60). We recommend to always apply Serum A before Serum B due to the water-based nature of Serum A vs the oil-based nature of Serum B.

Apply enough(1-3 pumps) of Serum A to lightly cover the treatment area of the scalp, and gently massage into the scalp to facilitate absorption.

Allow Serum A to fully absorb into the skin. Apply just enough(1-2 pumps) of Serum B to lightly cover the same target area where Serum A was just applied. Gently massage into the skin to aid absorption.

If any noticeable amount of serum A or Serum B remains on the scalp after application then reduce the amount of serum applied.
Are There Any Types of People Auxano will not work well for?
Yes. And VERY IMPORTANT to point out to any potential customer of Auxano Grow.

If one is living an inflammatory lifestyle (high stress, smoking, poor sleep habits, high consumption of junk food, alcohol, seed oils and sugar) and/or has high levels of body fat (visceral body fat is highly inflammatory), Auxano Grow WILL NOT WORK WELL IF AT ALL due to the blood flow to your scalp being heavily restricted.

In the presence of disease conditions like COPD and Metabolic Disease (Insulin Resistance and or Type 2 Diabetes) where vascular networks and pathways are occluded (severely restricting blood flow to the scalp), results with Auxano will be poor to non-existent.
Is a once-a-day application enough for noticeable hair growth?
Results may vary from person to person due to factors such as their current state of health (level of systemic inflammation) and root cause of hair loss (genetic issues like Androgenic Alopecia).

If you are in an advanced stage of hair loss, we recommend applying twice a day, morning and evening.

For people in the initial stages of hair loss, once a day application is recommended.

It is unlikely most people will see a significant difference between applying twice a day versus three times a day.

As such, applying three times a day (or more) would not be expected to produce a significantly better result than twice a day.
What is the ideal maintenance routine for using Auxano Grow, once the desired results are achieved?
A general maintenance routine would be to apply Auxano Grow 1-2 times per week to the area of concern.
After applying, is it recommended to avoid sun exposure for a period of time?
Auxano Grow does not generate any sunlight sensitivity.

If the directions for application have been followed and the applied serums are sufficiently absorbed, sun exposure is not a concern.
Is this product safe for chemically sensitive individuals?
Auxano Grow uses the highest quality materials and ingredients, along with the highest percentage of organic components currently available.

The Auxano Grow formulation is generally safe for chemically sensitive individuals but everyone is N-of-1 and biochemically unique.
Will your scalp and hair be greasy after application?
If the directions are followed closely, there should be no excessive residue or greasiness.

A light layer of Auxano Grow will be readily absorbed by the skin when gently massaged into the target area.

Any excess residue or greasiness is a result of over-application.
How fast I can start seeing results with Auxano Grow?
How fast someone may see results will vary depending on lifestyle factors (epigenetics) and genetics.

These range from the overall state of an individual's health to the root cause of their hair loss itself.

Some people have reported results in as little as three weeks.

Typically, results can be seen anywhere from 3 to 6 weeks after you begin using Auxano Grow.

It is important to understand the lower one's systemic inflammation (due to lifestyle), the better results will be.
Is this product something that has to be used for the rest of your life, and how much does it break down to (in terms of monthly cost)?
Once you achieve an initial result you are happy with, we recommend a maintenance schedule.

A maintenance schedule may range from a once-a-week application to using Auxano Grow every other day.

Living a low inflammation, fully optimized lifestyle, will greatly contribute to positive hair regrowth when using Auxano Grow.
Are the hair regrowth results with Auxano Grow permanent?
The effects of Auxano Grow do not disappear or reverse upon halting treatment.

Depending on the root cause of an individual's hair loss, their overall health and lifestyle, a maintenance schedule may be beneficial in maintaining long-term results.

GHK-Cu and Carbon 60 work synergistically to produce regenerative effects that may reverse underlying damage leading to hair loss.

Many hair loss solutions only treat the underlying symptoms.

Once treatment is ceased, the benefits disappear rapidly.

Even when the use of Auxano Grow is halted, the cumulative regenerative effects that occurred during the treatment cycle will remain.
Typically, hair loss (in men) is the direct result of DHT attaching itself to the DHT receptor at the follicle. This in turn stunts the life, growth, and cycle of the follicle until it is miniaturized and then falls dormant. How does Auxano Grow interrupt this process, assuming it's not a DHT blocker?
Great question and one taking a bit more white space to answer.

Auxano Grow is not intended to be combined with other compounds, with the exception of red light therapy.

Minoxidil and DHT blockers have a wide array of side effects, and GHK-Cu alone has been demonstrated to be at least as effective as Minoxidil.

The DHT mechanism of hair loss is predicated on the action of the 5 alpha-reductase enzyme, which converts test to DHT.

5 Alpha Reductase is a key intermediate in multiple pathways, not just DHT.

There are studies suggesting hair loss may be more fundamentally associated with restriction of blood flow to the impacted area of the scalp.

Both GHK-Cu and ESS60 are proven to support the development of healthy blood flow.

It is hypothesized stimulating healthy blood flow to the follicular root is one of the multiple methods of action through which GHK-Cu and Carbon 60 generate hair regrowth action.

Dr. Loren Pickart, the pioneer who proved GHK-Cu's multiple health benefits in his hundreds of published studies, explains it best:

"...many men have high test metabolite levels but never suffer hair loss." "The ultimate factor in hair loss appears to be not DHT itself, but damage to the hair follicle." "A recent study of 3,000 individuals found no link between baldness and the genes (5-alpha reductase) controlling the production of test metabolites." "Some researchers are of the opinion that if follicular health is improved or maintained, it is possible that hair loss can be reversed or minimized."

Be on the lookout for an upcoming article that further deepens the understanding of Hair Loss, DHT and Inflammation to the scalp.

For many more questions and answers about Auxano Grow, read our article.
Is the Auxano Grow product indicated for female hair loss (genetic pattern baldness) and/or the all-over "hair fall" type loss (telogen effluvium) that some women experience for hormonal reasons?
Yes, Auxano Grow V2 can help with all types of hair loss including what is observed in peri and post menopausal women. By working through the multiple effects of GHK and C60, including angiogenesis and antioxidant effects, the hair follicles general state of health is improved. This supports the maintenance of existing hair and potentially supporting the generation of new hair as well. It's imperative users realize their current state of topical and systemic inflammation will be the ultimate arbiter of their success with Auxano. The lower their rate of inflammation, the better results will be.
Can Auxano Grow be used for beards? Does it need to be massaged into the facial skin similar to the scalp? Is there an estimated timeline to see results?
Auxano Grow can be used for beards in the same way it is used for hair on the scalp. Massaging both products into the facial skin where there is beard growth is of most importance. The results achieved using any Aseir Product will always be related to the health of the individual's cellular tissue in the skin and hair. The less inflammation one has (systemic and topically) the faster results will occur as new blood flow (to the targeted cells) will be less restricted. Please be aware Auxano Beard (a separate beard conditioning and regrowth product) is coming by Q1 2022.
Will Auxano Grow V2 work better with DMSO? I have used DMSO for transdermal transport before and was wondering if it would also help in the transport of Auxano?
DMSO (dimethyl sulfoxide) is an interesting delivery system. It can improve the transport and absorption of topical products. In theory, it would help with allowing Auxano Grow's active ingredients to penetrate the dermis of the scalp. Due to some people being highly sensitive to DMSO, we recommend applying Auxano only as demonstrated on our website and in our videos.
Does Auxano Grow Cause Any Side Effects?
Auxano Grow does not cause any disruption to hormonal systems or pathways. Because it stimulates the body to enhance natural biological processes, no side effects are produced. The cellular health of the end user will always be the chief determinant to the ultimate success and results achieved when using Auxano Grow.
How long after I apply Auxano V2 should I wait before taking a shower and washing my hair?
We recommend applying Auxano post shower in the morning or the evening to allow for maximum absorption in the scalp. If you are going to shower post application, we recommend a minimum of 3 hours for Auxano(Serum A and Serum B) to be absorbed into the scalp.
I have been using Minoxidil, and I am going to start treatment with Auxano. I am afraid of losing hair upon discontinuing the use of Minoxidil. Is there anything that you would recommend in this transition?
Great Question. We recommend you start applying Auxano Grow in the AM while continuing your Minoxidil protocol in the evening. It is important the Auxano does not compete against the Minoxidil for absorption into the scalp. After 3 weeks of Auxano use in the morning, you can withdraw from your Minoxidil protocol for good as your scalp will be in a much better state of health from using the Auxano.
Get your 90 day supply from only $2.30 per day